Alaska Highways and Maps

Visitors traveling to Alaska by automobile or by motorhome must come through Canada on the Alaska Highway and/or the Alcan Highway unless they catch a ferry on the Alaska Marine Highway and come up the inside passage. The overland highways are generally in good shape and paved unlike in the old days when most of the highway from the lower 48 to Alaska was a dirt road.
The ALCAN or Alaska Highway
The Alaska Highway (also known as the Alaskan Highway, Alaska-Canadian Highway, or ALCAN Highway) was constructed during World War II and connects the contiguous U.S. to Alaska through Canada. Technically speaking the Alaska Highway runs from Dawson Creek, British Columbia to Delta Junction, Alaska, via Whitehorse, Yukon. However, many people think of the highway as starting when you cross the Washington state border at one of several crossing points. Completed in 1943, it was 2,237 km or 1,390 mi long, but is becoming shorter due to rerouting. The historic end of the highway is near milepost 1422,where it meets the Richardson Highway in Delta Junction, Alaska, about 160 km (99 mi) southeast of Fairbanks. Mileposts on the Richardson Highway are numbered from Valdez, Alaska.

Highway Maps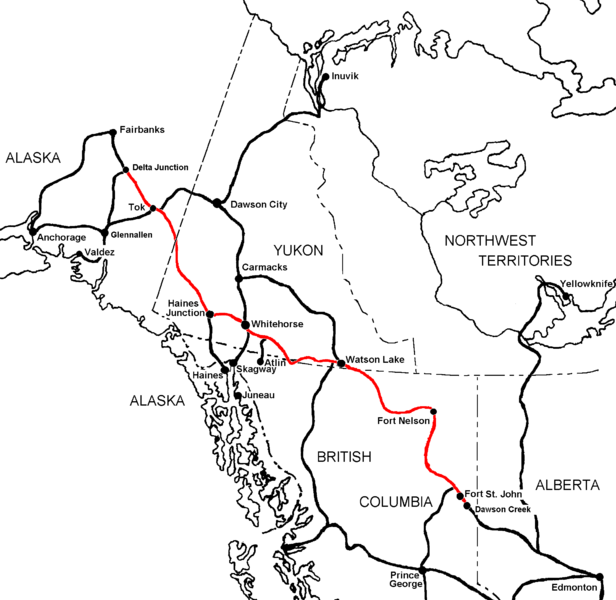 Alaska Mileage Guide

Anchorage to Big Lake
Anchorage to Denali National Park
Anchorage to Fairbanks
Anchorage to Glennallen
Anchorage to Haines
Anchorage to Homer
Anchorage to Prudhoe Bay
Anchorage to Seward
Anchorage to Skagway
Anchorage to Soldotna
Anchorage to Talketna
Anchorage to Tok
Anchorage to Valdez
Anchorage to Wasilla ~ Palmer

.

59 Miles
236 Miles
358 Miles
185 Miles
775 Miles
226 Miles
847 Miles
126 Miles
832 Miles
147 Miles
113 Miles
328 Miles
304 Miles
45 Miles


Air Mileage to Anchorage

Seatlle
Dallas
New York
Chicago
Miami

.

2435 Miles
4144 Miles
4649 Miles
3818 Miles
5434 Miles